Meetings
Forthcoming Events
For details of our future meetings, with dates for the event itself and for the Call for Papers, please return to the Welcome page. Events organised by TheoPhilos are open to everyone interested in the topic, whether to attend or to propose a paper.
Members will be automatically notified of forthcoming events. If you are not a member and are interested in an event please register as a Correspondent (by sending an email to theophilos[at]icomos.org); this will mean you will be included in email notifications for that and other events.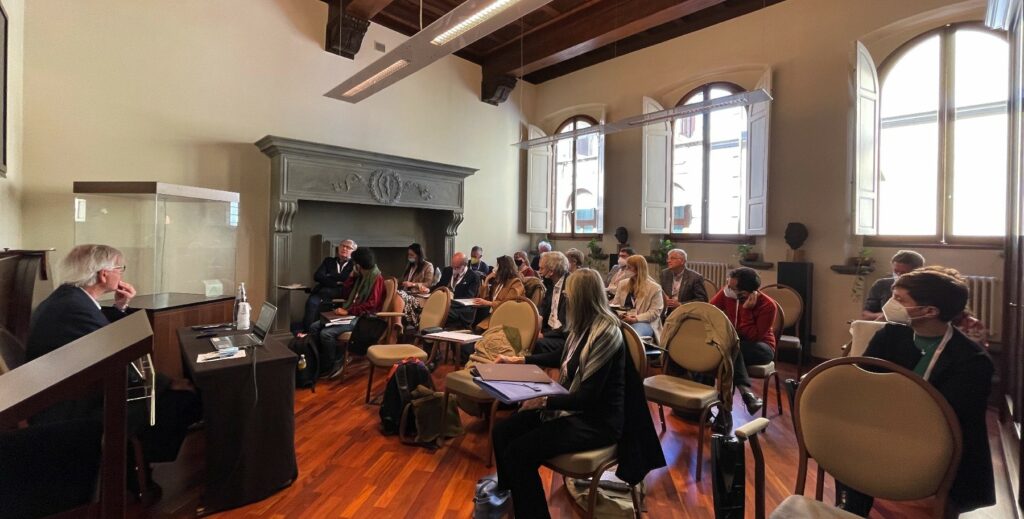 Past Events
Since its foundation in 2005, TheoPhilos has organised the following scientific conferences:
The 19th Scientific Conference
"Accessibility of Cultural Heritage – Inclusiveness and Constraints in Conservation"
Florence (Italy), April, 2022 – download the CONFERENCE PROGRAMME.
The 18th Scientific Conference
"Doctrinal texts – achievements, importance and future in the protection of heritage"
Florence (Italy), September, 2021 – download the CONFERENCE PROGRAMME.
The 17th Scientific Conference
"Indigenous Cultural Heritage"
Vancouver (Canada), November, 2019.
The 16th Scientific Conference
"Religious and Pilgrimage sites – Conservation challenges"
Florence (Italy), February-March 2019 – download the CONFERENCE PROGRAMME.
The 15th Scientific Conference
"Historic ruins – protection, management, use"
Krakow (Poland), November 2018
The 14th Scientific Conference
"Conservation Ethics Today: Are our Conservation-Restoration Theories and Practice ready for the 21st Century"
Florence (Italy), 1-3 March 2018,
The 13th Scientific Conference
Place of Memory – Protection, Conservation, Interpretation
Florence (Italy), March 2017
The 12th Scientific Conference
"Modern Heritage – Identifying, Assessing and Managing its Protection and Conservation"
Florence (Italy), March 2016
The 11th Scientific Conference
"How to valorize built heritage? Assumptions, methodologies, examples of heritage valorization systems"
Florence (Italy), March 5-8, 2015
The 10th Scientific Conference
"Heritage Trends in the Mirror of Social Change. Conservation Reality – 50 Years after Venice Charter"
Riga (Latvia), May, 2014
The 9th Scientific Conference
"The HUL challenge. Re-assessing the Values of the past in the light of contemporary Trends"
Florence (Italy), March 2014
The 8th Scientific Conference
"The Unnoticed Fading of the Past in the Light of Contemporary Heritage Trends. The Dilemma of HUL"
Florence (Italy), March 2013
The 7th Scientific Conference
"Heritage under Pressure – Perspectives of HUL"
Baku (Azerbaijan), April 2012
The 6th Scientific Conference
"Paradigm Shift in Heritage Protection? Tolerance for Change, Limits of Change:,
Florence (Italy), April 2011
The 5th Scientific Conference
"Conservation Turn – Return to Conservation: Challenges and Chances in a Changing World"
Prague and C. Krumlov (Czech Republic), May 2010
The 4th Scientific Conference
"The Image of Heritage – Changing Perception, Permanent Responsibilities'"
Florence (Italy), March 2009
The 3th Scientific Conference
"Conservation and Preservation – Interactions between Theory and Practice. In memoriam Alois Riegl (1858-1905)'"
Vienna (Austria), May 2008
The 2nd Scientific Conference
"Values and Criteria in Heritage Conservation'"
Florence (Italy), March 2007
The 1st Scientific Conference
"Cultural Heritage in the 21st Century – Opportunities and Challenges"
Krakow (Poland), May 2006